Happy Friday,
The last few weeks have been very good for the portfolio. During times like these it is crucial to remember that these types of returns won't last forever. At any moment, my portfolio could drop 10%, 20%, or even up to 50%.
I choose to keep a very concentrated portfolio which means I have to be prepared for that type of volatility. So far, it has resulted in some very strong out performance.
For new investors or those that don't enjoy investing in individual stocks, investing passively in something like an S&P500 index fund is a very good way to build long-term wealth.
This Week
Portfolio Update

A Couple Interviews I've Done Recently

The Links
1. Portfolio Update
I am not a Financial Advisor. None of this should be taken as financial advice. I am providing this for informational purposes and I am not responsible for any decisions you make about your finances or investing.
Transactions this week: (~10)
Stock
Began starter positions in Crowdstrike (CRWD) @ $87.58 and Slack (WORK) @ $33.43. I wrote an article about that here.
Options
Options are not necessary for long-term investors and can be very risky. Options strategy definitions here.
I made some short term bets around earnings for Tesla (TSLA), Align Technologies (ALGN), Service Now (NOW), Atlassian (TEAM), and Shopify (SHOP).

The strategy I chose was called a "straddle" which is where you buy a Put and a Call at the same strike price and expiration date. The risk of these is the premium you pay (cost of each contract). Usually I try to do these in a way that requires the stock to move 5% - 8% up or down in order to be profitable. So I'm hoping for a big swing either way.

Here's a quick example, then I'll link to my posts on the actual trades.

Stock A trades at $100 per share. I buy a $100 strike "straddle" (so a Put and a Call) for a premium of $8.00. If the stock trades below $92 or above $108 before expiration, it becomes a profitable trade.
Potential Outcome 1: Stock goes to $110. That means I make $2.00 of profit per contract. Each contract represents 100 shares so that would be $200 in profit on a $800 trade.
Potential Outcome 2: Stock goes to $98. That means I lose $6 per contract because I paid a premium of $8.00 and it only moved $2.00. So in this case, I lose $600 of the $800 I bet.
Here is a good article from the Fool on how straddles work.
Tesla, Service Now, and Align trades.
Atlassian trade - Atlassian reported on Thursday after the close so I'm not 100% sure how this will turn out, though it looks like I will lose most of the premium.

Shopify trade: Shopify reports on Thursday August 1st and the Straddle expires on Friday August 2nd so I'll post the results as we get closer.
Portfolio Performance
7-Day performance: +4.82%
Year-to-date performance: +70%
S&P 500 Year-to-date performance: +20%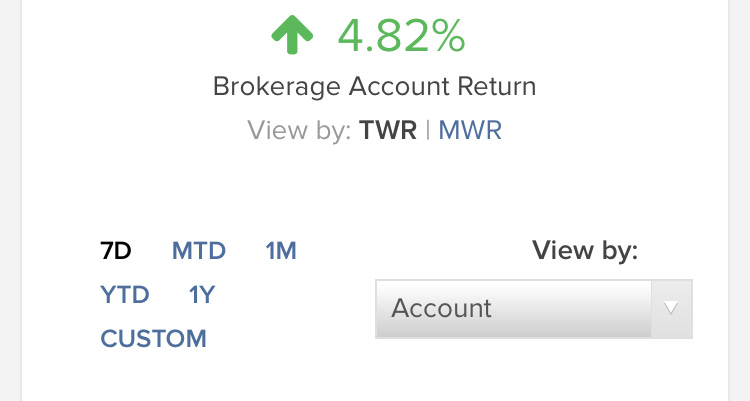 ---
Current Long Term Position Sizes (excludes options gambles)
Starting this week, I'm rounding to nearest whole number and including date or year I initially bought each company.

* means new position this week.
Alteryx (AYX) 2018: 17%
*Crowdstrike (CRWD) July 2019: 1%
Elasticsearch (ESTC) July 2019: 0.44%
MongoDB (MDB) 2018: 14%
Okta (OKTA) 2018: 7%
Pager Duty (PD) April 2019: 5%
Anaplan (PLAN) May 2019: 6%
Roku (ROKU) June 2019: 4%
The Trade Desk (TTD) 2018: 18%
Twilio (TWLO) 2018: 16%
*Slack (Work) July 2019: 1%
Zoom (ZM) June 2019: 3%
Zscaler (ZS) 2018: 7%
Cash: -0.3% I accidentally bought a little more than I had cash in the account. Technically, this is called buying on margin. It's not something I recommend or make common practice of, but it happens occasionally with small amounts.
Watch List
Same as last week. I now own small positions in Slack, Crowdstrike, and Elasticsearch, but I'm continuing to watch and learn more about each.
2. A Couple Interviews I've Done Recently
A few readers have reached out and connected me with friends of theirs or other people they follow. This has resulted in opportunities to meet new people and share my story which has been incredible. I can't thank you all enough for this.
This is about an hour long discussion with Jerremy Newsome where we dig into some of my current positions and my investing process. Jerremy runs a service called Real Life Trading which is a great resource for people interested in a more active style of trading/investing.
Here is a broader discussion where I share more of my personal story and less tactical stuff with Justin Castelli who is a Financial Advisor, CFP, and entrepreneur.
3. The Links
I'll post a few of my favorite links from the week below, but here is a link to the Notion database where I keep everything I find interesting throughout the week. Lots to pick and choose from in there.
$10,000 by Ben Carlson: Not every hot IPO works out. Be selective.
Eating Your Own Cooking by Nick Maggiulli: This is about how Nick invests his own money. Inspired by Josh Brown posting about the same thing.
Best of Breed vs Suites: Growth of Slack and Zoom Across the Okta Integration Network: Some great insights from the data Okta has about how its customers use different apps. I believe there's a ton of opportunity for niche players that are focused on one or two things (Zoom, Slack, Alteryx, The Trade Desk, MongoDB, even Twilio) to chip away at market share from big titans (Microsoft, Amazon, Google, Oracle) in product lines that either aren't that important to the big titans or in Oracle's case are 40+ years old and out-dated.
Thank you
I plan to keep this advertisement free and 100% free of cost for everyone. However, if you want to support the newsletter you can help in a few ways.
Become a paid subscriber for $5/mo or $50/yr using the button below. We currently have 24 paid subscribers which brings in about $110/month and 522 total email subscribers. Paid subscriptions help ensure this newsletter lives on. I also use the money to help pay for subscriptions to YCharts.com (for stock data/charts) and Loom.com (which I'll use for video updates/screen-shares of investment research).

"Like" the newsletter by hitting the little heart at the top of this email or article if you're viewing on Substack.com. This helps massively with discovery on Substack's "Top Post" list.

Share this newsletter by emailing to friends, sharing on social media, or by pigeon with your closest family and friends.
Thank you all so much for reading and supporting this newsletter. Investing has greatly improved my family's life and I'm passionate about inspiring others to get started. This newsletter is my attempt to do that.