Hey everyone,
Hope you had a great week. The market has been a bit volatile over the past couple weeks but the biggest thing I can emphasize (for myself especially) is to stick to our plan.
Investing like this is simple (not easy, but simple). We don't invest money we might need in the next 3 years, we try to find the best founder-led companies in the world, and we don't let what happens in the market from day to day impact our decision making.
Weekly Recap
We were about even this week, but here's a screenshot of the last 30-Days (+4%), 1-Year (+67%), and since Nov 2014 (+269%). I included the max drawdown details to show how volatile the last couple weeks have been.
The portfolio was down 12% between 7/26 & 8/05. This was a drop from a new all time high and now we have recovered a bit but are still sitting a couple percent below our all-time high.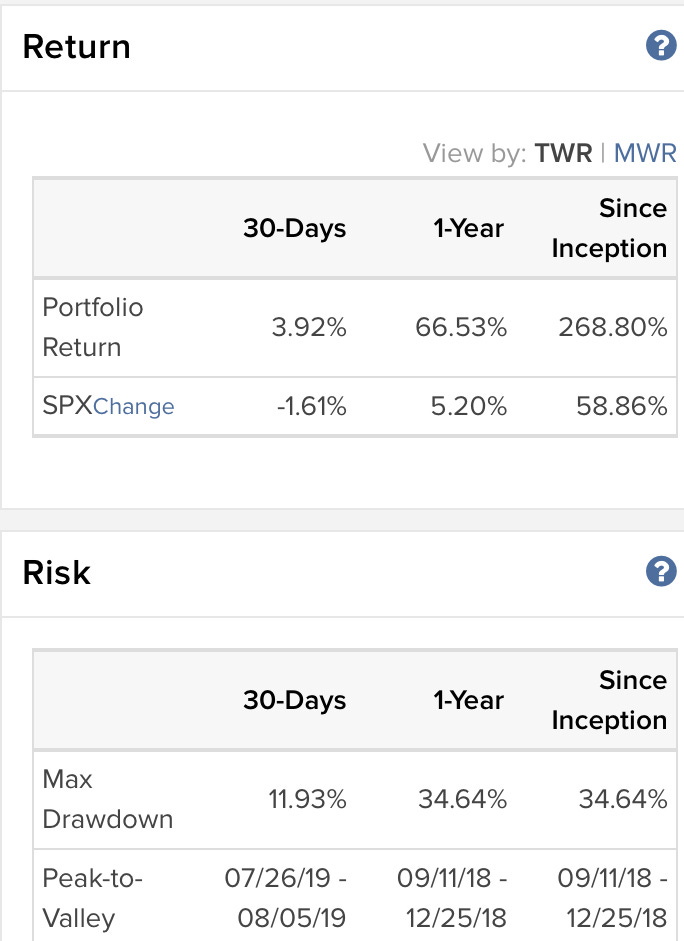 Portfolio Allocation:
The Trade Desk (TTD): 20%
Alteryx (AYX): 19%
Twilio (TWLO): 15%
Mongo Database (MDB): 14%
Zscaler (ZS): 7%
Okta (OKTA): 7%
Anaplan (PLAN): 6%
Pager Duty (PD): 5%
Roku (ROKU): 4%
Crowdstrike (CRWD): 1%
Elasticsearch (ESTC): 1%
Slack (WORK): 1%

I didn't make any changes to the core positions in this portfolio which makes up most of our invested assets, but we did open what's called a Rollover IRA. I switched jobs recently which gave me an opportunity to "roll" my 401k from my previous job into a Rollover IRA that I can now invest in individual stocks. Sarah is in the process of doing the same thing, but hers will take another couple days.

401k Rollovers: A Quick Guide
Here is what I bought in that account to show which companies I'm wanting to build positions in now. If TTD and TWLO weren't already such large positions, I would certainly have added to them.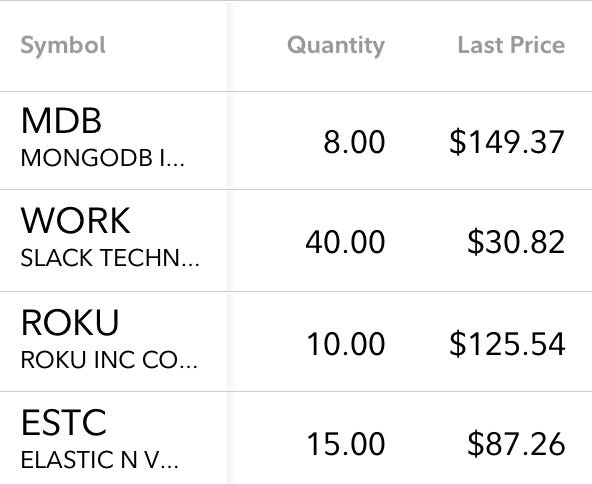 A Note on the Options Trading Nonsense…
Yup, I've concluded again that the Day Tradery options trades I have experimented with are a complete waste of time. Sure, maybe some people are successful day-traders, but that's not what I want to spend my time doing, it's not easy to understand and teach others (my goal with long-term investing & this newsletter), and it introduces a ton of fees, capital gains taxes, and risk.
Fortunately, I didn't destroy my portfolio in the process (because I kept the bets very small) but you won't be seeing that from me any more…seriously this time! Thanks for sticking with me through that and I apologize for wasting your time/spamming your inboxes.
I love reading about great Founders and their amazing companies and sharing the benefits of long-term investing that people with busy lives can adopt to improve their financial futures. That's what this newsletter will be dedicated to.
The Trade Desk Q2 2019 Earnings
All in all, this was a strong earnings report and I'm confident the company is in a very strong position. I'm very happy leaving our 19% position untouched.

The company recorder 42% revenue growth in Q2 which was an acceleration from 41% growth in Q1. TTD is also profitable on both a GAAP and non-GAAP basis which is rare for companies growing this fast.
I really like the recently announced deals with Amazon and Disney as Disney rolls their new streaming package out as well as the growth opportunities internationally. I truly believe Jeff Green and TTD are approaching international growth in a conservative, yet innovative way which is laying the foundation for fantastic long-term growth. Most companies try to rush into international growth using their same approach as in the U.S. that can be a huge mistake for so many reasons.

I'm currently reading AI Superpowers: China, Silicon Valley and the New World Order which is a bit hyperbolic, but covers this idea pretty well. That is an affiliate link so if you buy the book, I'll get a very small % (take that Amazon!).

Here are some key comments from Founder and CEO Jeff Green during the conference call:
On their current international growth numbers and how they plan to grow in emerging markets..
For example, in Q2, EMEA had continued solid growth and share gains. Our offices in both Madrid and Paris achieved record spend in Q2. We added more major advertisers and more accounts grew their spend with us. During the quarter, we added a large regional hotel chain and a smart home energy company, to name a few.

We are seeing similar trends in APAC, where our offices in Hong Kong, Jakarta, and Sydney all achieved record spend. We're also seeing exciting growth in many of Asia's fastest-growing emerging markets. eMarketer defines Southeast Asia as Singapore, Indonesia, Thailand, Malaysia, Vietnam, and the Philippines. They predict digital mobile growth there to be about 35% in 2019. In several countries, we are growing exponentially faster than that. For example, in Vietnam, we grew 125% year-over-year.

In these smaller, but fast-growing markets, data-driven advertising is the perfect fit. The cost of sales and distribution is way lower and market-moving shifts require adoption from fewer people. I continue to predict that these emerging markets will be nearly 100% data-driven before the US.

To continue demand in these emerging markets, you have to grow supply. That's why I'm excited about the premium inventory partnerships we have developed in Asia. For example, in Thailand, we access the country's top TV digital platforms, Channel 7 and Channel 3. We also access TrueID TV, the second-largest broadcaster in Thailand. In Vietnam, we partner with the largest free TV station, VTV.

Globally, our commitment to invest and innovate in the channels that matter most to advertisers is a major driver of growth for The Trade Desk. In Q2, 47% percent of spend on our platform was in mobile. That's a new record. Mobile video spend growth was about 50%. Mobile in-app spend growth was about 63%. Data spend again was up 80%, and cross-device spend was up over 250% for the third quarter in a row.
On the recently announced deal with Amazon…
We recently announced that Amazon Publisher Services is working with The Trade Desk. This is a breakthrough deal in Connected TV for several reasons. As always, let's start big picture and then zoom in on what this means directly for our business and our advertisers.

This announcement is a victory for the open Internet. So, many decisions by big tech players have created walls around their content and reduced transparency for advertisers. In this deal, Amazon has taken a different path. By making this announcement, they are staking four claims. One, they are joining the open Internet. Two, aside from advertising on Amazon.com, they are centering their efforts on the sell-side. Three, they are going to reduce the cost of sell-side fees significantly while being completely transparent. And four, they are partnering with the demand side instead of the go-it-alone strategies that the walled gardens often deploy.

Let me tell you why I believe these points are significant. Advertisers on our platform now have access to 100% of Amazon's third-party content providers, think Discovery, NBC, and ESPN apps on your Amazon Firestick. This is quality inventory on premium content.
On TTD's business model and ability to grow and be profitable…
Finally, as I have stated many times before, we believe our business model is exceptional. We have the luxury to not have to choose between growth and profitability. We are doing both and we have pretty much done so since the beginning. In Q2, our financial performance, and particularly our $58 million of adjusted EBITDA was significantly better than we had estimated. So, I want to give a little context.

We've increased our operating spend by more than $41 million year-over-year in Q2. This means our investment was up 50% over the previous year. Even at that rate, we couldn't invest fast enough. Of course, part of that is our investment discipline.

We invest quickly but carefully, always focused on the needs of our customers worldwide. We are also careful to ensure that we maintain our culture, which we believe is key to our success. In Q2, some of the hiring and investments we did not complete are already happening in Q3.
On TTD's partnership with Disney Plus, ESPN Plus, and Hulu Plus…
Fantastic. So as you know, Disney has been so aggressive in the last 18 months and it is actually so exciting to watch. A few years ago I was really touting between the forward thinking of AT&T and I feel just so excited by what Disney is doing as a partner and as a consumer as well. I think the new bundle they have coming out with Disney Plus and ESPN Plus and Hulu Plus for ads is really great. And I think it's going to be successful. But in about that same time about 18 months ago, they approached us and we just started working together. We learned something in those discussions, which is that more than 50% of the views that they're getting on their content is coming from connected devices. And they wanted to figure out a better way to monetize that.
On the future in China..
As it relates to China, so as you pointed out, it is very early stage for us. I wouldn't characterize anything that we've experienced today as limiting or anything like that. We started a partnership with Baidu, Alibaba and Tencent. We're growing that. We are seeing growth every single month and we're going slow and being very deliberate. We, of course, are going to continue to roll out in a bigger and bigger way and there is more to come before the end of the year on just some of our plans there. But things in China are going well and we're playing the long game. So, there is nothing that's happened in China that I view as a setback.
TTD Q2 2019 Earnings Call Transcript
Thank You
Thank you all so much for reading and helping to support my goal of making investing accessible to anyone with an internet connection. We are now at 653 total subscribers and 36 paid subscribers. If you enjoy this please hit the ❤️ at the top of the page (this helps others find us on substack.com), share with friends, and/or start a paid subscription for $5/month or $50/year.