Hey Investors,
I plan to keep this advertisement free and 100% free of cost for everyone. However, if you want to support the newsletter you can help in a few ways.
Become a paid subscriber for $5/mo or $50/yr using the button below. We currently have 24 paid subscribers which brings in about $110/month and 522 total email subscribers. Paid subscriptions help ensure this newsletter lives on. I also use the money to help pay for subscriptions to YCharts.com (for stock data/charts) and Loom.com (which I'll use for video updates/screen-shares of investment research).

"Like" the newsletter by hitting the little heart at the top of this email or article if you're viewing on Substack.com. This helps massively with discovery on Substack's "Top Post" list.

Share this newsletter by emailing to friends, sharing on social media, or by pigeon with your closest family and friends.
Thank you all so much for reading and supporting this newsletter. Investing has greatly improved my family's life and I'm passionate about inspiring others to get started. This newsletter is my attempt to do that.
This Week
Portfolio update

Crowdstrike (CRWD) Q1 Fiscal Year 2020 earnings review

The Links
1. Portfolio Update
I am not a Financial Advisor. None of this should be taken as financial advice. I am providing this for informational purposes and I am not responsible for any decisions you make about your finances or investing.
Transactions this week: 5
Stock
Monday July 15, 2019: Bought 22 Shares of Elasticsearch (ESTC) at $93.80 per share. ESTC is now a 0.43% position and I'll look to add to that over time up to about a 5% position.
Options (not necessary for long-term investors and can be very risky. Options strategy definitions here.)
Thursday July 18, 2019: Bought 3 x July 19, 2019 expiration ISRG $527.5 strike "Straddles" (put & call) for $24.93 each or $7,479 total ($24.93 x 3 x 100).

Thursday July 18, 2019: Bought 10 x July 19,2019 expiration CRWD $70 strike "Straddles" for $6.49 each or $6,490 total.
These were risky gambles which risked about $14,000 or roughly 3% of my portfolio. I needed one of the companies to make a 10% move up or down after earnings on Thursday July 15th to make this profitable. If both made 10%+ moves it would become very profitable. I was expecting a big swing one way or the other from CRWD because it's a new IPO and I thought it was misunderstood (one way or the other). ISRG was purely a guess.
Friday July 19, 2019: Sold 3 x July 19, 2019 expiration ISRG $527.5 strike "Straddles" for $15.60 each or $4,680 total. I lost $2,799 on the ISRG options gamble.

Friday July 19, 2019: Sold 10 x July 19, 2019 expiration CRWD $70 strike "Straddles" for $12.50 each or $12,500 total. I made $6,010 on the CRWD options gamble.
In total, I made $3,211 ($6,010 - 2,799) or roughly 23% (3,211/$14,000) between the ISRG and CRWD options gambles. Then when you take capital gains taxes of roughly 25% out from that (it was in a taxable account) that comes to $2,409 after taxes. Don't get me wrong, that's a lot of money, but is it worth the stress and effort? Not sure.
Portfolio Performance
7-Day performance: +1.65%
Year-to-date performance: +62.26%
S&P 500 Year-to-date performance: +19.48%
---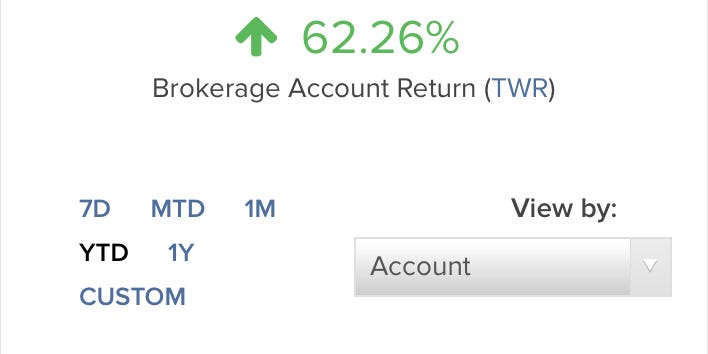 Current Position Sizes
Alteryx (AYX): 16.73%
Elasticsearch (ESTC): 0.44% (new this week…again)
MongoDB (MDB): 15.36%
Okta (OKTA): 7.30%
Pager Duty (PD): 5.94%
Anaplan (PLAN): 5.91%
Roku (ROKU): 3.68%
The Trade Desk (TTD): 17.20%
Twilio (TWLO): 16.58%
Zoom (ZM): 2.67%
Zscaler (ZS): 7.31%
Cash: 0.8%
*You'll see NKTR, NTNX, and CRWD option positions below which are basically worth $0 so I didn't add them above.
Watch List
Elasticsearch (ESTC), Crowdstrike (CRWD), and Slack (WORK) are still the three companies I consider to be on our watchlist. ESTC is now a 0.44% position for us and I'm considering adding more. Crowdstrike just had a phenomenal earnings report and I'm strongly considering starting a small position after some of the post earnings excitement wears off. That would put us at 12 holdings so I'm in no rush to add Slack to the portfolio. I believe the company has a lot of long-term potential but I struggle with the fact that they are losing paid customers already.
Slack is down roughly 7% since last Friday which might make it seem tempting as an investment. However, I'm comfortable learning more about the company before starting a position and if that means I lose out on some potential upside then I'm okay with that.
2. Crowdstrike (CRWD) Q1 Fiscal Yr 2020 Earnings
This was a very strong report with better revenue growth than expected, guidance for better margins as the company scales, and some insight into the company's products and innovation which expands the company's potential total addressable market. I was also very impressed by the way management conducted the conference call especially since it was their first as a public company
I am very interested in Crowdstrike as a long-term investment after these results. Although we avoid timing the market for the most part, there is a ton of excitement around these earnings so I'll probably wait for that to die down a bit before starting a long-term position.
I strongly recommend listening to the entire conference call and reading the transcript.
First Quarter Fiscal 2020 Financial Highlights
Revenue: Total revenue was $96.1 million, a 103% increase, compared to $47.3 million in the first quarter of fiscal 2019. Subscription revenue was $86.0 million, a 116% increase, compared to $39.8 million in the first quarter of fiscal 2019.
Annual Recurring Revenue (ARR) increased 114% year-over-year and grew to $364.6 million as of April 30, 2019.


Subscription Gross Margin: GAAP subscription gross margin was 72%, compared to 62% in the first quarter of fiscal 2019. Non-GAAP subscription gross margin was 73%, compared to 62% in the first quarter of fiscal 2019.


Loss from Operations: GAAP loss from operations was $25.8 million, compared to $33.1 million in the first quarter of fiscal 2019. Non-GAAP loss from operations was $21.9 million, compared to $31.2 million in the first quarter of fiscal 2019.


Net Loss: GAAP net loss was $26.0 million, compared to $33.6 million in the first quarter of fiscal 2019. GAAP net loss per share was $0.55, compared to $0.77 in the first quarter of fiscal 2019. Non-GAAP net loss was $22.1 million, compared to $31.7 million in the first quarter of fiscal 2019. Non-GAAP net loss per share was $0.47, compared to $0.73 in the first quarter of fiscal 2019.


Cash Flow: Net cash generated from operations was $1.4 million, compared to a use of $6.4 million in the first quarter of fiscal 2019. Free cash flow was negative $16.1 million, compared to negative $16.7 million in the first quarter of fiscal 2019.


Cash, cash equivalents and marketable securities were $175.1 million as of April 30, 2019.
Recent Highlights
Added 543 net new subscription customers in the quarter for a total of 3,059 subscription customers as of April 30, 2019.


Raised $659.1 million in net proceeds from our initial public offering, which closed on June 14, 2019.


Announced the availability of the CrowdStrike Store, that opens the CrowdStrike Falcon® platform to third-party applications.


Announced the industry's first endpoint detection and response solution for mobile devices, Falcon for Mobile.


Named a Leader in The Forrester Wave™: for Cybersecurity Incident Response Services, an independent assessment of today's incident response market.
Link to the earnings press release
Highlights From The Conference Call
Background on the company and products
Our success to-date and rapid growth are the results of close to a decade-long mission to stop breaches and pioneer a new category, the security cloud. Nearly every breach you've ever heard of had two things in common. The victims had both a firewall and an antivirus solution. Today, companies and government agencies face the constant threat of cyberattacks from a variety of threat actors, ranging from highly advanced nation states to organized crime, activists and even terrorist organizations. These attacks aim to not only steal money and intellectual property, but increasingly they seek to disrupt and destroy. Using highly sophisticated tools and techniques, today's cyber adversaries run circles around fossilized legacy technologies.

This is what led us to start CrowdStrike back in 2011. We set out to create a modern endpoint security platform with a cloud native architecture, built from the ground up to stop breaches. Like other cloud disruptors, CrowdStrike started with a clean slate to build not only a scalable cloud architecture, but also a scalable, frictionless and highly efficient business model.
On acquiring new customers and expanding revenue from current customers
Key things we often hear from customers are the need to simplify the security stack, reduce a number of agents on their endpoints and gain the advantage of a true cloud native endpoint security platform. Take the example from this quarter of a health insurance provider that was using a number of tools from other security vendors including EDR from a next gen vendor, AV from a legacy vendor and a variety of tools embedded in the operating systems of their servers and workstations. Yet this company had issues with alert fatigue and had difficulty scaling this patchwork of solutions as the business was growing. To solve these problems, they dropped the old setup and rolled out CrowdStrike's Falcon platform, given its ease of deployment, single agent architecture and ability to take advantage of crowdsourced data by adding our threat hunting module, OverWatch.

In Q1, we also displaced a legacy AV vendor and a midsized pharmaceutical company. The board and leadership team at this company had a growing concern about their current state of security and the level of adversary activity they were seeing. They also knew they had limited cybersecurity personnel and the skills gap, which is another demand driver we commonly see among prospective customers. This company quickly identified our turnkey Falcon Complete offering to help them easily address their skills gap and fortify their cyber defenses.

Next, I will highlight a win that represents our tremendous opportunity to expand within our customer base. This customer is in the public sector, which also speaks to our growing success in that segment of the market. We initially engaged with this large U.S. city back in 2016 on a small deployment of 15,000 endpoints to replace a fossilized AV vendor that was failing to provide protection and value. We replaced that vendor with our combined EDR next-gen AV offering plus OverWatch. Based on the success of the initial deployment, we expanded our footprint to over 250,000 endpoints the following year. And I'm pleased to report that in Q1 of this year, we have increased coverage to 400,000 endpoints and sold additional cloud modules, including Falcon Discover for IT hygiene, Falcon Device Control, Falcon Spotlight for vulnerability management, and Falcon X for integrated threat intelligence. This is a great example of how we can land a new customer and expand that relationship by adding endpoints and modules over time. Our Falcon platform is one of the most strategic security purchases they have made in many years.
On future growth and an expanding total addressable market (TAM)
While we started in the endpoint security market, given the nature of our cloud-native architecture, we're able to rapidly innovate on top of our platform and build new modules for additional functionality, and use case is not typically associated with endpoint security. Since 2016, we have launched seven new cloud modules and today we address five markets, corporate endpoint security, threat intelligence, security and vulnerability management, IT service management software and managed security services. Combining these market segments, we estimate that our global market opportunity is $24.6 billion in 2019, and growing to over $29 billion in 2021.

To help drive future growth, we plan to continue to develop new cloud modules to address broader endpoint use cases such as IT configuration management and IT operations. To measure our success executing on our platform strategy, we look at the percentage of all subscription customers who have adopted four or more cloud modules. This percentage rapidly grew to 30% by the end of fiscal 2018 and grew to 47% by the end of fiscal 2019. In Q1, we continue to see an upward trend in this metric.

In looking at our future growth prospects, it is common for those new to the CrowdStrike story to only think about the opportunity as endpoints such as desktops and servers. However, we think about the opportunity differently and more broadly than that. We expanded our market opportunity by securing a wider array of workloads which includes desktops and servers, virtualized and cloud environments, IoT devices, and containers. In Q1, we expanded our market opportunity even further when we introduced Falcon for Mobile that supports Android and iOS. This is a powerful vector for growth. These workloads need to be protected and they are growing with every new connected device and every new cloud instance.

We also intend to grow by broadening our reach into new international markets and customers segments including smaller organizations as well as acquiring customers in the federal government vertical. And lastly, we see significant longer term opportunity with new workloads and applications within the CrowdStrike store. The CrowdStrike Store offers the first and only unified security cloud ecosystem of trusted third-party applications. This sets the stage for us to further expand our TAM and grow in segments outside of security, such as IT operations and compliance.
Conference Call Transcript - this one is on Seeking Alpha. It's free now, but not sure how long it will stay that way. If it ends up being locked behind a pay-wall if you google "CRWD Q1 2020 Earnings Transcript Motley Fool", the Fool.com should have a free transcript up soon.
3. The Links
Elasticsearch:
Elastic Cloud Enterprise at Cisco (User Story)
Elastic Stack in the Oil and Gas Industry
MongoDB:
Benchmarking: Do it Right or Don't do it at All
Okta:
Taking it to Heart: How Customer Feedback Helps Okta Listen and Lead
COO Frederic Kerrest on Tech Companies and Security
Roku:
Roku Plans to Expand to Brazil, Other Countries
Slack:
New Information About Slack's 2015 Security Incident
Zoom:
Security Update and Our Ongoing Efforts
Thank you
That's all for today. This was a longer email but I hope it was valuable and provides some links for you to enjoy over the weekend and next week. Thank you so much for your time and attention.