Happy Friday Investors,
Thank you for taking the time to read this. It means the world to me.
We're in the midst of some sort of sell-off in the U.S. stock market. There are far more fear based headlines than optimistic ones. I don't know what's going to happen with interest rates, recessions, or other global concerns.
But what I do know is that in the past these types of headlines and sentiment have not been associated with bubbles.
So what am I doing? I'm sticking to the plan.
My goal is to be a lifetime investor. I want to grow an investment portfolio that not only provides financial security for my family, but for future generations of my family with the ability to make a positive social impact as well.
With that timeline and the fact that my wife and I still plan to be contributing to our investment accounts every two weeks for the foreseeable future, it doesn't make sense for me to change my strategy based on what I think is going to happen in the markets.
Here is the only chart that matters if we are lifetime investors. The S&P500 has returned 16,800% since 1950. It would have been really easy to destroy 75% + of this return by investors trying to trade in and out of the market during this time frame.
Portfolio Housekeeping
My wife and I both switched jobs recently which means we had an opportunity to roll our previous work-sponsored 401ks into Rollover IRAs which we can manage ourselves. We're doing this because we believe we can outperform the indexes by 5-10% per year over the next 30+ years.
So I'm going to break account updates into three separate accounts with dates signifying when we opened the fund.
Founder Stock Nov 2014 Fund: This is what I have been updating to this point and contains 90% of our total investments.

Founder Stock August 2019 Fund: This is my Rollover IRA with approximately 1% of our total investments.

Founder Stock September 2019 Fund: This is my wife's Rollover IRA which is still processing and will have about 9% of our total investments.
Founder Stock Nov 2014 Fund
Tough week. Down 6% as of Friday, August 16, 2019 before the market opens. We're still up 54% year to date which is outperforming the S&P500's 14% YTD return.
I have not made any changes this week and I stay fully invested so I don't have any extra cash to invest in the account.
Positions:
Alteryx: 20%
The Trade Desk: 19%
Twilio: 15%
MongoDB: 14%
Zscaler: 7%
Okta: 7%
Anaplan: 6%
Roku: 5%
Pager Duty: 5%
Zoom: 3%
Crowdstrike: 1%
Elasticsearch: 1%
Slack: 1%
Founder Stock August 2019 Fund
Turns out I started this one right at the recent top. Oh well. I won't be adding to this account because you can't add funds to a roll-over IRA so I imagine this one will have very few trades. It will be an interesting learning experience to see how these four companies perform and compete with each other for sizing.

I started these as basically 25% positions each in this portfolio. Remember, this portfolio is about 1% of our total investments so these positions only add about 0.25% to our total position sizes in each stock if we think about them across accounts.
I'm still learning how to get performance data from Fidelity which is the brokerage this account is in, but here is a snapshot of the performance of each position and the average price of the shares I purchased. This account is down roughly 3%.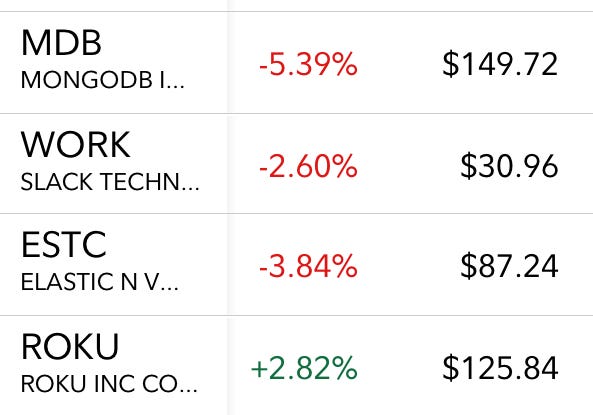 Links For the Weekend
I had a long drive this week so I took the opportunity to listen to David Gardner, one of the best investors of all time. His approach is so unique and something I'm still working to adopt in my own way. Here are three of the best podcasts I have ever heard for people who invest like I do.

The 6 Hows of Rule Breaker Investing - 6 thoughts on how we can best set ourselves up to be successful investors.
200 Stock Advisor Picks Later: 6 lessons from picking stocks every month for 16 years straight.
Don't Be a Dip: David talks about why he doesn't recommend waiting to "Buy the Dip".
Thank You
Thank you all so much for reading and helping to support my goal of making investing accessible to anyone with an internet connection. We are now at 667 total subscribers and 37 paid subscribers. If you enjoy this please hit the ❤️ at the top of the page (this helps others find us on substack.com), share with friends, and/or start a paid subscription for $5/month or $50/year.